Pop culture's most famous faces descended on the The Metropolitan Museum of Art on Monday evening to celebrate the fashion industry's party of the year: the 
Met Gala
.
Postponed last time around due to the Covid-19 pandemic, the star-studded annual fundraiser for the Met's Costume Institute returned to mark the opening of its banner fashion exhibition, "
In America: A Lexicon of Fashion
." A-list actors, supermodels,TV drag queens, musicians and athletes all walked the red
carpet — or 
cream 
carpet, to be precise — offering their own unique take on the all-American 
theme
.
Ahead of the event, longstanding gala chair Anna Wintour 
said
 via email that American fashion in 2021 has become "a patchwork, reflecting the world we're all living in, as seen through many different lenses." Adding to this patchwork, the 
Vogue editor-in-chief
 eschewed her usual Chanel and turned up in a floral Oscar de la Renta gown — a tribute to the late designer, who was a close friend of hers and an avid gardener.
One of Wintour's celebrity co-chairs, 
inaugural poet Amanda Gorman
, offered her thoughts on the theme as she arrived at the Met, telling CNN Style that American fashion was "diverse, vibrant, beautiful and intersectional."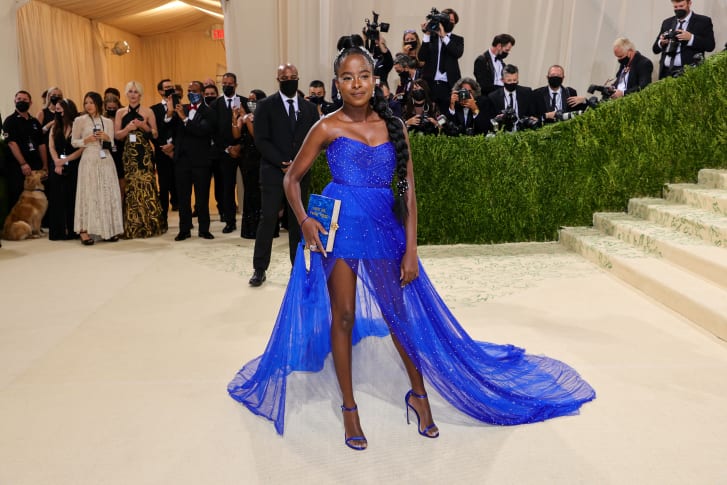 Making her way up the steps in an embellished indigo Vera Wang gown and silver laurel crown, she said: "I think American fashion really is at the crossroads of the world." Representing a reimagined Statue of Liberty, Gorman held an Edie Parker clutch that said "Give Me Your Tired," a reference to the poem inscribed at the statue's base.
The poet was one of several stars to don deep shades of blue at the glitzy event. Tracee Ellis Ross wowed in a Balenciaga Couture coat dress with a popped collar, while gymnast Nia Dennis made an acrobatic entrance in a blue Stella McCartney catsuit.
Written by
Allyssia Alleyne, CNN
Oscar Holland, CNN
Nick Remsen, CNN
New York City.